Find An Obituary
Help remember your loved one with a thoughtful memorial, honoring the story of their life and family, as well as obtain details on their funeral arrangements. Click below to view our obituary listing.
Obituary Listings
When an obituary is published to our site, we will notify you by email. This service is free, and you may unsubscribe at any time.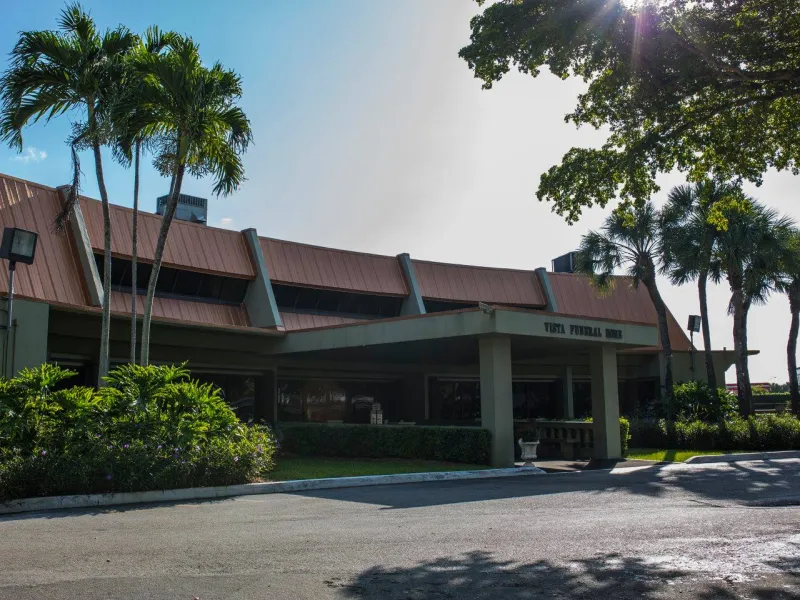 South Florida's Trusted Provider Of Funeral, Cremation & Burial Services

Vista Funeral Home is committed to serving families with competence and compassion. We are dedicated to honoring life through support of the family.

Of the many arrangements made after losing a loved one, the first is the selection of a funeral home. Our staff can help create a beautiful tribute and provide guidance and suggestions on the many decisions made when planning a funeral, cremation, memorial, celebration of life, and/or burial service. We take pride in meeting the specific, and sometimes unique, needs of each and every family.
Please use our website to learn about the funeral, cremation and permanent memorialization services we offer, as well as our pre-planning and grief support resources.
If you have any questions or concerns, please

contact us

anytime. We are here to help you!
Vista Funeral Home Partners with Miami Jewish Funerals
Providing families a digital platform to help bury and mourn loved ones in the Miami area

Jewish Funeral Group continues its expansion with the launch of MiamiJewishFunerals.com. Dedicated to ensuring a comprehensive offering of Jewish funeral and burial traditions is available to everyone, Miami Jewish Funerals has partnered with Vista Funeral Home and local community organizations, in addition to Jewish Funeral Group's strategic partnerships with shiva.com and others.
The resource for Jewish funerals provides comprehensive support, education, and information for people seeking to understand traditions and choose the rituals appropriate for them when planning.
Miami is home to one of the largest Jewish populations in the United States, with more than 120,000 Jewish people. MiamiJewishFunerals.com is the go-to resource for families in need of information and services such as education regarding funeral and shiva rituals, pre-planning and at-need planning, and community support.
Plan Ahead
Advanced planning is a thoughtful and considerate act that your loved ones will truly appreciate when the time comes.
Customized Tributes
Customizing the service for your loved one allows you to truly honor their memory with unique and personalized details.
Testimonials
Words cannot express the empathy, understanding and professionalism of the funeral staff at Miami lakes. I would love to begin with Jennifer who I first spoke with to begin the process. She made me feel so comfortable and walked with me through the process. A few days later I had the pleasure to go with Stephanie for the next and final step and she was amazing. She also helped me through the process and helped me make all the right choices from the color of flowers to the words on the memory cards. She was also involved in my mother's embalming and made my mother look beautiful, full and healthy looking after she lost a lot of weight due to a terrible illness. Vista memorial Miami lakes has to be one of best staffs in south Florida.

Anonymous
July '21
I was not prepared for the passing of my mom, but who is? I was terrified by the thought of the process and how to handle things. Well, that feeling was immediately resolved once I set foot in Vista Funeral Home. I was met by the most professional staff I have ever had the pleasure of meeting.To the staff of Vista, I want to offer continued appreciation and love for all of you who assisted us during our sorrowed time.

John H
May '21
Clarencia Ingram at Vista Funeral Homes has the MOST CARING ATTITUDE, We lost my son and were sticken by shock and grief, we were not 100% here!! but feeling that someone really cares and is willing to go the extra mile to help you makes a big difference.
Margarita B
February '21
My father passed the Thursday right before Hurricane Irma and the funeral staff picked up my father that Friday morning before we made the official arrangements. The funeral director Cathy was empathetic and so organized, even with the hurricane on its way she was accommodating and focused on us.
Kimberly H
Very beautiful Serene peaceful and professional ...
Robert R
March '20
They where with us every step of the way. (T)he funeral director Stephanie was very nice and helpful through our hard times. I would like to thank all the staff at the funeral and cemetery for putting us at ease.

Rey P
April '19